Brush Your Teeth Daily!
For good oral health, brush your teeth twice a day with a good fluoride toothpaste!
How Old Is Your Toothbrush?
Replace your toothbrush every 3 or 4 months, or sooner if the bristles are frayed. A worn toothbrush won't do a good job of cleaning your teeth.
A Healthy Diet Makes a Healthy Smile!
For healthy teeth and gums, eat a balanced diet and limit between-meal snacks. Go easy on sugary treats!
Pleasant Burbank Sedation Dentistry You Can Count On
You'll be surprised to find that sedation dentistry in Burbank with Dr. Alexandre Tavitian is a pleasant experience. Our first priority is to help you feel comfortable and relaxed during your dental procedure. Ask us about conscious sedation to help relieve the stress of some cosmetic dentistry procedures. We also provide dental implants, cosmetic dentistry and wisdom teeth.
You don't have to let dental phobia run your life any longer. Our extensive sedation dentistry experience will ensure that you get the care you need to maintain your oral health.
Arrange for Burbank sedation dentistry with Dr. Tavitian today by calling our helpful staff at (818) 955-7788. You can also use our easy online form. Our warm and understand team here at Burbank Dental Care will make sure you feel relaxed while we're taking care of your beautiful smile.
Dental Service Areas
Burbank Dental Care is proud to provide sedation dentistry in Burbank, Glendale, Studio City, Los Angeles, North Hollywood and Los Angeles County.
Map and Hours
If you need to find a dentist contact us at (818) 955-7788 for a map, office hours and directions. We're looking forward to helping your learn about your options for affordable sedation dentistry.
Burbank Dental Care
2625 W. Alameda Avenue, Suite 420
Burbank, CA 91505
General Info: (818) 955-7788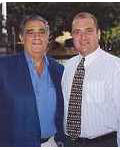 Dr. Alex
more info »